I know, it's been a while since I've posted and there are a number of reasons that I won't bore you with in this post. For now, I'll dive back into some reviews!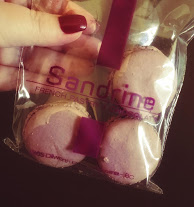 I have nothing but spectacular reviews about Sandrine's shop so let's start with the important accessibility things of note:
It's located in a strip mall so there is dedicated parking with marked disability parking right near the entrance.
There is a wide ramp leading right into the shop.
There isn't anywhere to sit down inside but this isn't a restaurant. It's where you come to buy treats to take home (or to eat in the car on the way home–no judgement).
The shop is small but is also laid out in such a way that there is plenty of room for someone who is getting around in a wheelchair, with a walker, or with some other mobility device.
Sandrine (the shop is named after the owner, who can often be found working there) does offer savoury items such as Pâté, Tourtière, small batch Cassoulet, and more, but I haven't tried any of those items so I can't speak to their deliciousness (judging by the mastery of their sweet items, I can't think of any reason that they don't put as much care into all of their offerings).
I have tried a couple different varieties of their croissants and, in my opinion, they are the best that Kelowna has to offer!
There are some gorgeous desserts and I've tried a few of those and they taste as good as they look but the star of the show, for me, is their macarons! I've probably tried every flavour they make but since I'm making a great effort to eat more healthily I now focus on just my favourite goodies when I want to indulge and, for me, that is the lavender macaron with chocolate filling. I wish I could insert the sound of angels singing and the heavens opening up as I present to you this little magical cookie sandwich.
The outside has a slight crackle to it and the floral flavour pleases the senses. Then there is the rich, smooth, chocolately filling.  It's a winning combination of textures and flavours and if you've ever wondered what to bring me (or someone else) as a hostess gift,  macarons make such a pretty little gift (they will put them in a pretty gift box, if you like).
Sandrine's is not where you want to go for the cheapest treats but it is definitely where you want to go for the treats of the highest quality. They are a pleasure to the senses and they are worth every cent.
Here is a link to Sandrine's website where you can see some tantalizing photos and learn about more of her offerings including cooking classes:
http://www.sandrinepastry.com/
What's your favourite flavour of macaron? Leave a comment and let me know!