The Penny Farthing has been an Oak Bay institution since as long as I can remember. When I lived in Victoria, children were not permitted in pubs so I'd never been here before but I'm really glad I had the chance to visit and I'd like to return. It's charming, and is very much modelled in the style of an old English pub.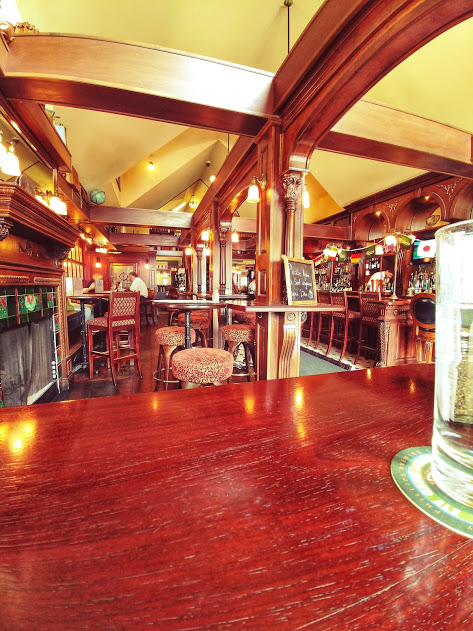 Things of Note:
There is no dedicated parking and street parking can be difficult to come by, especially during peak meal hours on Oak Bay Ave. We were lucky to find a spot just around the corner on a side street.
There are a few steps to get up into the place. However, when we were leaving, a few women came out the side of the building (I didn't even realize there was a side entrance) down a ramp pathway so maybe the restaurant is accessible that way?
Again, it's possible there is some washroom that I don't know about, but the washrooms were down a flight of about 15 stairs (I would have investigated the wide entrance and washroom situation more thoroughly but I had an important appointment that I had to get to and couldn't stay longer).
There are two seating levels in the building, with most of the seating being on the main floor.
There is just aboute very type of seating you can think up. Booth, tables that move, chairs with arms, chairs without arms, chairs of *regular* height, those extra tall chairs…they've got it all! The sign at the entrance asks you to seat yourself and I appreciated that because I wandered all through the first floor before making a decision. I chose a semi-circle booth that has pull out chairs on the opppsite side. The seating was very comfortable for me and it also allowed me to take a couple of pictures of the restaurant. Additionally, my husband has significant hearing difficulties and he was able to sit next to me in such a way that his "good" ear was facing me.
The service was great. Attentive without hovering, water glasses were kept full, and just the right amount of chatty.
Now, if all of that will work for you, get yourself down to the pub!
Let's start with a drink! I don't usually "day" drink and, in fact, I'm not a big consumer of alcohol in general. It isn't that I don't enjoy a drink or two now and then, but in recent years it really wreaks havoc on my body in terms of inflammation. Two drinks in the evening can lead to me feeling like I'm suffering the worst hangover of my life the next day. Wine (sob!) seems to be one of the alcohols that my body responds most negatively to. Anyway, I chanced it and ordered a gin drink that is described on the menu as follows:
Les Belles Filles "Lime Rose"
From Hotel Carlton in Lyon, the Lime Rose makes its way to our westerly island. Sheringham Seaside Gin, Rose Syrup, Spiced Syrup du Maison, Lime, Tonic and Cucumber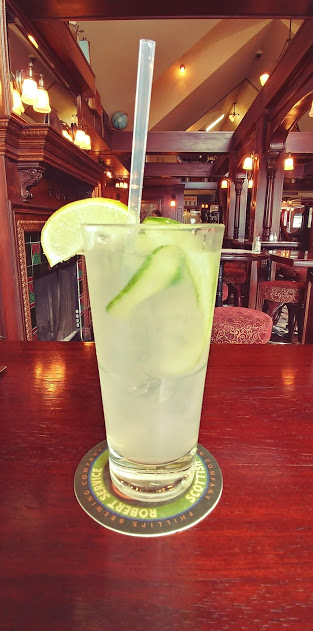 I am sooo glad I tried this because it gave me so much pleasure to sit in this lovely pub and savour this drink. It was tarte and refreshing and I would most certainly order it again. Plus, with lime and cucumber it must certainly count for 1 of my 5-10 a day, right? Heh.
Onto the food…
I was really undecided because so many things on the menu looked good. I'd really like to go back and try their chorizo scotch eggs because I confess that I've never had a scotch egg and I love having the opportunity to try something new.
What I did have was a cup of crab bisque and the avocado shrimp salad. It was really a perfect lunch. The bisque was rich and creamy with lovely bites of real crab and a wee hint of spice that hit you right at the end of each bite. It was divine. The salad was creamy but mostly from the avocado because, while it had dressing, it was not at all overdressed. It was fresh and satisfying.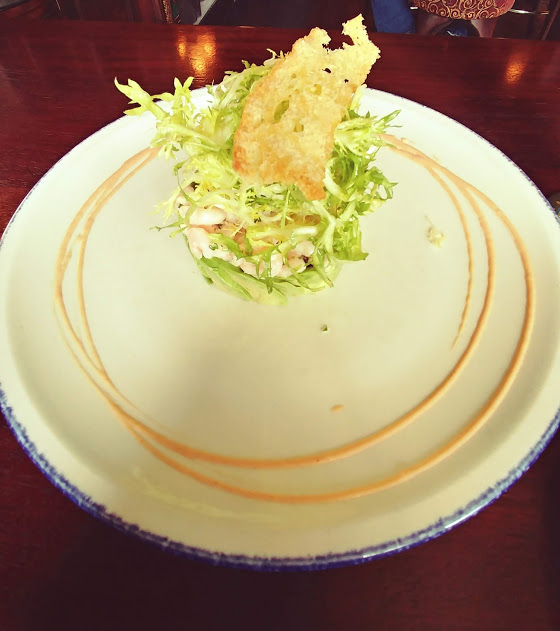 I don't have a picture but my husband had bangers and mash and he enjoyed every last bite of it (and he's picky)!
I'm going to have to make a number of trips to Victoria over the next year and I definitely hope to return to The Penny Farthing Public House! If you get the chance, I hope you'll spend a bit of time there, too.