Capt. Kat's is located in Barrington, right off the highway and near to the causeway that leads to Cape Sable Island. Just look for the giant lobster on the roof! We arrived just as they opened for lunch.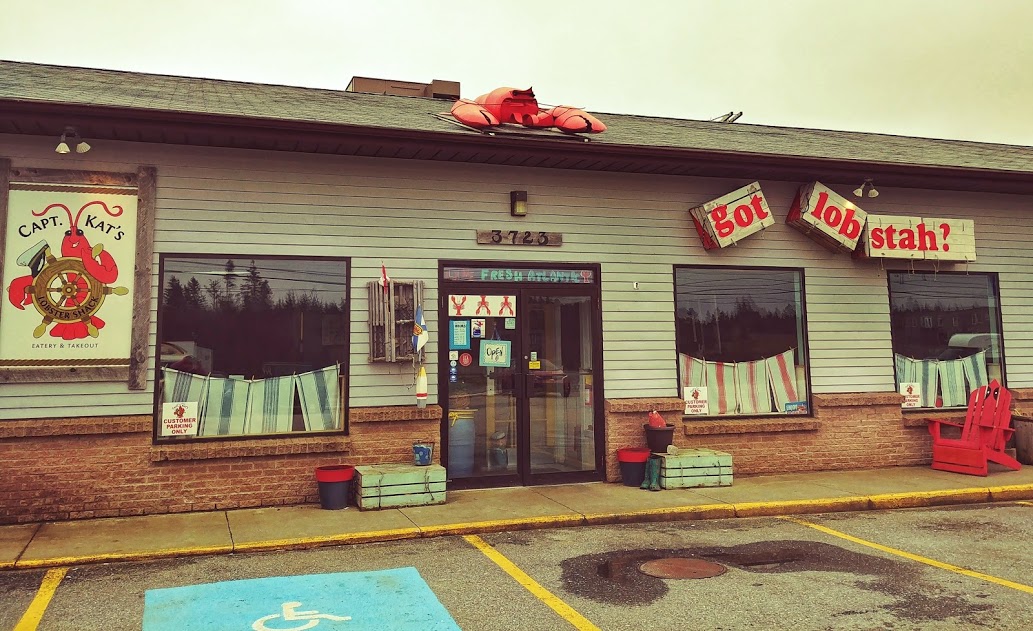 Things of note:
There is ample parking right near the entrance.
There is only the slight lip of the sidewalk (as you can see in the picture above) and no other stairs to navigate.
I didn't use the washroom here but the sign idicates it is wheelchair accesible.
The chairs did not have arms and could be moved away from or closer to the tables. I will say that I didn't find the chairs at our table (there are different types of chairs at different tables) to be particularly sturdy. They held my weight without incident but I could tell they were not happy about it.
Fun note: They put paper down on the table and offer a jar of crayons so that you can draw!
Here are some pictures of the interior: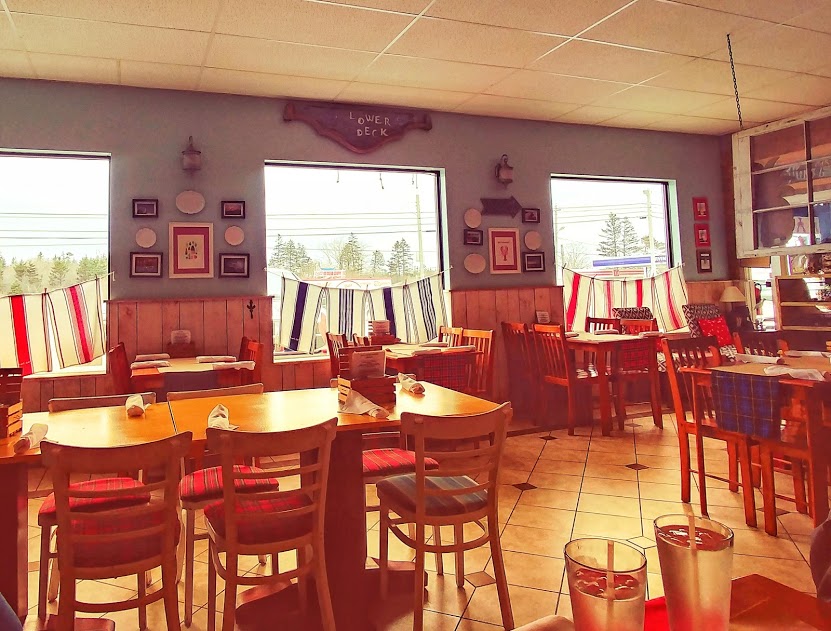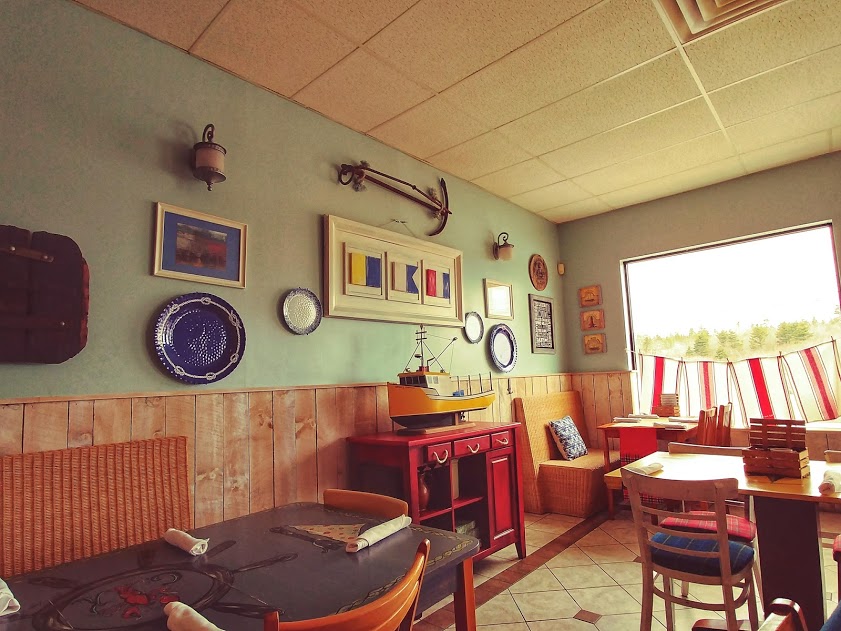 Most of the food was delicious, with only one disappointment. I was dining with 2 other people and between us we ordered 2 appetizers, a salad, and a steak poutine.
The appetizers were the "Mini Fish Cakes" and the "Bander's Bacon-Wrapped Potatoes". The fish cakes were the only less-than delicious dish, in my opinion. It wasn't that they were bad, but I was expecting something with more fish and less potato and they didn't have much flavour. They did come with something that is local to Nova Scotia called Green Tomato Chow, a sweet green tomato relish, and I was glad to have tried something new even though it was too sweet to pair well with fish cakes, for my tastes. Still, those bacon-wrapped potatoes more than made up for the bland fish cakes. These were nuggets of heaven on a stick. The menu describes them as follows:
Baby potatoes wrapped  in  fresh smoked bacon, drizzled with  Nova Scotian honey & roasted to perfection, served with  our lemon  lime mayo for dipping.
I'm not entirely sure if the dip was just mayo because it seemed a lot more like sour cream to me. Regardless, every bite was perfection. I'm definitely going to attempt to recreate this at home sometime, with local Okanagan honey and a citrus sour cream for dipping.
The salad was very fresh and came with a lovely "Shack-made" blueberry dressing.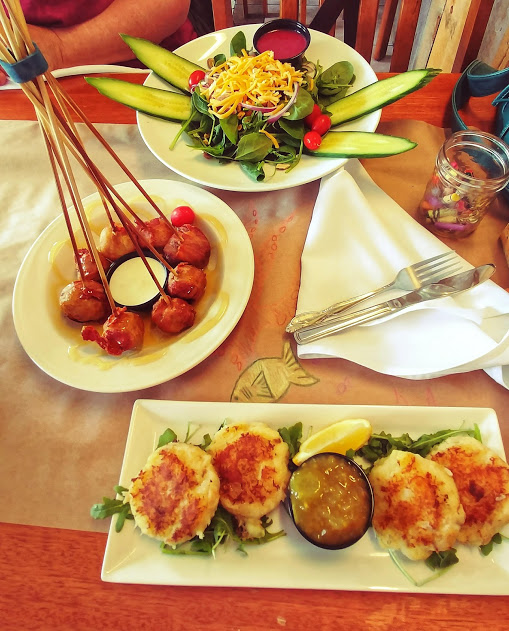 One of the members of our party polished off the steak poutine and declared it the best steak he's ever eaten (while his tastes aren't what one might call "refined", I can tell you that he's enjoyed a lot of steak in his life so that is high praise). He offered me a bite of the steak and I have to say that it was very tender and had the perfect chargrilled flavour.
We also took some peanut butter pie back to our beach rental and ate it for dessert much later but I forgot to take a picture (sorry). I assure you, it was rich, creamy, and very filling! One slice can easily feed two people.
What I did get a picture of is Lucy the Lobster. You know how in Canada and the USA we have the ground hog and its weather predicting shadow? Well, in Barrington, Lucy the Lobster is the one to predict Spring, thank you very much! This famous crustacean weighs over 20 lbs. and you can meet her right here at Capt. Kat's Lobster Shack.
In case you aren't sure, she's the big beauty on the left!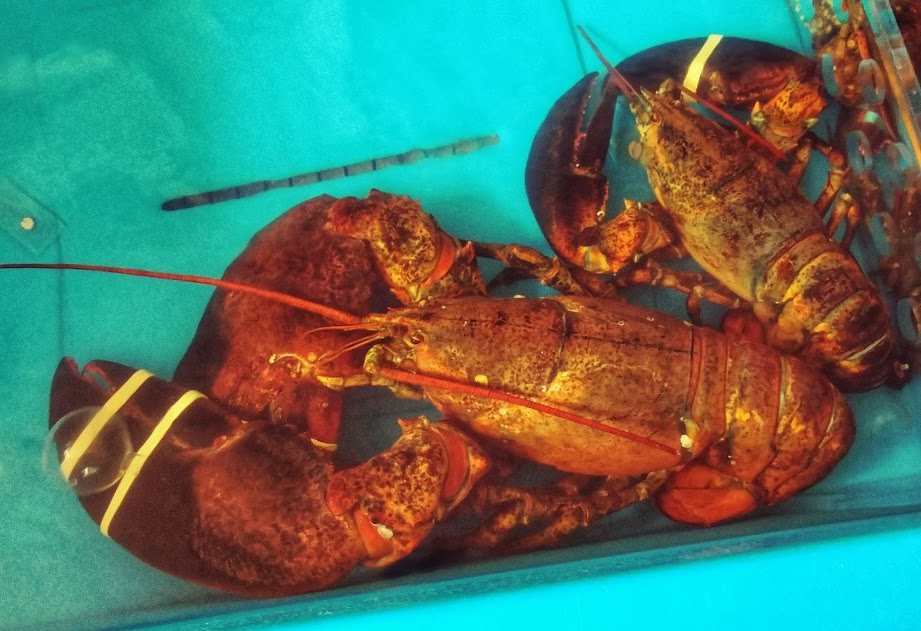 If you're looking for a place to eat in Barrington I do recommend checking out Capt. Kat's Lobster Shack. Got Lobstah?!